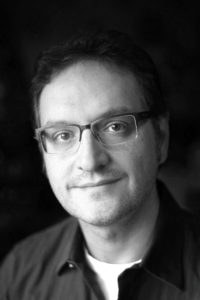 Patrick Fata's wide range of interests is reflected in the diversity of his musical life. His daily activities include being a pianist, composer, writer, and educator. Each of these activities influences the others, forming an active, fulfilling career.
His studies took him from the Conservatoire National de Région de Rueil-Malmaison in Paris to Huntington University and Butler University in Indiana, where he specialized in piano performance. Meeting and marrying Amy transformed his life in countless ways. Musically, it was the start of a performing and arranging collaboration that encouraged him to expand his classical background and explore contemporary music for the church. One gratifying result of this collaboration was the release of five albums of their music. They currently lead worship together in Cicero, Indiana.
As a composer, Patrick got his start writing and arranging primarily for the piano. His love of creating music has grown into a focus on chamber, choral, and orchestral music. He recently collaborated with composer and choral director Ruth Dwyer, publishing an arrangement for children's chorus on Colla Voce Music.
Patrick's sundry writing experiences come together in his work with Memoria Press, where he is developing curriculum that combines music history and theory to develop students' understanding and appreciation of classical music. He believes this will shape their worldview with a foundation in art, music, and history that is indispensable to becoming more informed and valuable members of society.
Patrick served on the faculty of Taylor University in Upland, Indiana, for 19 years, and continues to teach now in his private studio. He also coaches a string ensemble for Highlands Latin School in Indianapolis, for whom he arranges pieces that are tailored to each member's skill level, and is an accompanist for the Indianapolis Children's Choirs.
The first eighteen years of his life were spent in France, but he now makes his home in the Midwest with Amy, their two daughters, and their dog, fittingly named Maestro.